NHL Draft 2017: Tampa Bay Lightning select D Cal Foote in first round
With the 14th overall pick in the draft, the Tampa Bay Lightning have selected Callan "Cal" Foote of the WHL's Kelowna Rockets.
One of the Tampa Bay Lightning's biggest needs going into this year's draft was defensive depth. Steve Yzerman addressed this need first with the selection of Cal Foote with the team's first round,14th overall pick in the 2017 NHL Entry Draft.
Foote is a 6'4″ 214-pound defenseman who is a self-proclaimed two-way player. Last season, with the WHL's Kelowna Rockets, Foote scored 51 points in 71 games. However, the specific attribute of Foote that most likely led to his drafting is his right-handedness
Currently, the only Lightning defensemen with right-handed shots are Anton Stralman along with Jake Dotchin and Andrej Sustr, who are both Restricted Free Agents. The Lightning has left-handed shot depth with defensemen Victor Hedman, Braydon Coburn, Slater Koekkek, and now Mikhail Sergachyov.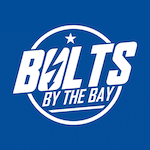 Want your voice heard? Join the Bolts By The Bay team!
Write for us!
Foote is poised to make his way onto a roster that needs a defenseman with a right-handed shot. At just 18, Foote is still young and the level of play in the WHL and NHL are worlds apart. However, Foote has proven in his play that he can hold his own. Here's what Elite Hockey Prospects has to say about the newest Bolt.
An assertive two-way defenceman who reads plays quickly and understands both the offensive and defensive sides of the roles he is put into. He plays a consistent game, and can be trusted to create chances from the back end on special teams. He uses his size to gain leverage against other players, though he isn't an overly physical force. His hockey sense is outstanding, and his ability to not just read but start and, on the odd occasion, finish plays is overtly indicative of his high talent level.
This description should make the mouth of every Lightning fan water, as this is exactly what the Bolts have been looking for for some time now.
If Cal's last name sounds familiar, it's because he isn't the first Foote to play in the NHL. His father, Adam Foote, played for the Colorado Avalanche and won the Stanley Cup with them in 1996 and 2001. Like his father, Cal is also a defenseman and according to Cal, his father is where he learned everything about the game of hockey from.
A right handed, two-way defenseman, with a family history of success in the NHL. Sounds like the Lightning have struck gold.
During the draft, Foote revealed that he has never been to Tampa Bay. He also said that he is excited nonetheless to join the team. We welcome him to Tampa and are excited to see him in a Bolts sweater.