Tampa Bay Lightning: Faceoff wins in short supply for league leaders
The Tampa Bay Lightning has been dominant this season, but faceoff wins have been in rather short supply.
This season has been one of overall dominance for the Tampa Bay Lightning forwards. Ranking 1st in goals per game (3.74) and power play percentage (26.2), Tampa Bay's ability to create and cash in on scoring chances has been second to none.
It has not been dominance in every category, though. Today I want to focus on the centers and the struggles the Lightning have had in the faceoff circle.
The Tampa Bay Lightning currently rank 30th out of 31 teams in the league, averaging only 47.1% in the face-off circle per game this season. For perspective, 14 teams not currently in a playoff spot win a greater percentage of face-offs than the Lightning. The Colorado Avalanche take the honors of 31st in the league.
As the Lightning approach the halfway point of the season, who can help lift this team closer to the league average of 50%.
Statistically Speaking
The following will show each center, their career stats, and '17-'18 season stats.
Career %
45.30%
49.61%
Steven Stamkos
48.00%
47.78%
Brayden Point
46.70%
48.68%
Tyler Johnson
49.60%
49.87%
Yanni Gourde
39.80%
42.27%
Cedric Paquette
47.40%
45.26%
Tampa Bay has employed six centers, as described above, this season. Four of those six centers play on the top two lines. Steven Stamkos and Vladislav Namestnikov on the top line with Brayden Point and Tyler Johnson on the second line. Yanni Groude centers the third line and 4th line shutdown duties are courtesy of Cedric Paquette.
Quick note: Namestnikov and Point are having breakout years in the faceoff circle. Playing well above their career averages, both have found new life on new lines this season.
Namestnikov
Vladislav Namestnikov, playing with Steven Stamkos and countrymen Nikita Kucherov, has flourished in his top line role. Taken 27th overall in the 2011 draft, Namestnikov is finally proving he was worth the first round pick.
Only 35 games into the season, Namestnikov sits 4 points shy of his career best (35 points/80 games) set in the '15-'16 season. Scoring aside, he has been excelling in the face-off circle, winning a career high 49.61% while often taking double the amount of draws as linemate Stamkos.
The Captain
While the lack of face-off attempts may be affecting his overall percentage, Steven Stamkos is less than a quarter of a percentage point below his career average. Seeing a few more draws per game may help him find his groove and increase his 47.78% but while Namestnikov is doing so well, it is not a pressing need.
Point
After winning himself a roster spot last season, Brayden Point found himself the top line center by years end after Steven Stamkos went down with a knee injury early in the season. Being on the top line, Point was trusted to face the oppositions shut down line(s) most nights. Finishing with 44.74% as a rookie, Point has improved to an impressive 48.68% while manning the second line.
Johnson
Tyler Johnson, playing wing to Brayden Point, worked his way from the 3rd line due in part to an offensive burst 15 games into the season. Seeing less draws in the face-off circle has not hurt Johnson's face-off ability, as he currently winning just above his career average of 49.60%. Point and Johnson have been dynamic together and overall the best line in terms of face-off wins.
Gourde
As a result of the top 6 heavy with center and face off talent, Yanni Gourde has earned the 3rd line center duties. Though his 42.27% is lowest on the team, Gourde has shown more improvement than any other Lightning center.
After only winning 36.81% last season, Gourde is winning nearly 8% more face-offs this season. This has helped Gourde explode offensively, currently ranking 7th on the team with 24 points.
Paquette
Finally, filling out middle, Cedric Paquette and his linemates are often asked to shut down the other teams top line. Sidelined with injuries, Paquette has only played 20 games this season and is well below his career average (47.40%) in the face-off circle at 45.26%.
While facing the league's elite centers is a tall order, Paquette has shown he is up to the task. With the winter break allowing for rest and recuperation, expect Paquette to start showing quality in the face-off circle.
Stepping Up
Stamkos – The captain has always led by example and playing closer to league average himself might motivate the 30th place Bolts.
Paquette – Things look up for Paquette in the faceoff circle, if he can put this injury behind him.
Gourde – Having already proven hard work gets results, expect Gourde to keep rising as the season progresses.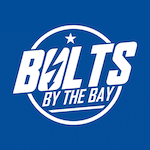 Want your voice heard? Join the Bolts By The Bay team!
Write for us!
Fun Fact of 2017
Victor Hedman currently has a higher win percentage in the faceoff circle than any center on the team (50%). How is that for league average?