Tampa Bay Lightning G Peter Budaj leaves game after suffering Lower-Body Injury
Tampa Bay Lightning goaltender Peter Budaj was forced to leave the game late in the third period against the Philadelphia Flyers after being barreled into from behind.
The Tampa Bay Lightning is already dealing with more than their fair share of injuries to key players right now. Lightning alternate captain Ryan Callahan is out indefinitely after suffering an Upper-Body Injury back on Dec. 14 against the Arizona Coyotes.
Also missing from the Lightning lineup is defenseman Anton Stralman, who is currently day-to-day with a Lower Body Injury. Thankfully, there is a chance Stralman could return to the lineup on Sunday night as the Lightning take on the Columbus Blue Jackets.
Unfortunately, the Tampa Bay Lightning may be heading into Columbus another man down. Lightning goaltender Peter Budaj was forced to leave the game late in the third period against the Philadelphia Flyers after suffering a painful looking Lower-Body Injury. The worst part is, Budaj didn't even have an opportunity to avoid the injury.
The play was in the Lightning's defensive zone. Flyers defenseman Andrew MacDonald was squaring up to put the puck on the net. Meanwhile, Budaj was setting up to make the save. Regrettably, for the Lightning, this was not the way this story would play out.
What Budaj couldn't see is what was going on behind him. Flyers forward Scott Laughton was battling with Lightning defenseman Victor Hedman for positioning when Laughton lost his edge and went tumbling to the ice. Unfortunately, with nothing in between Laughton and Budaj, there was nothing to prevent him from barreling into the Lightning netminder.
Laughton took Budaj's left leg right out from under him and Budaj went crashing to the ice. Unfortunately, as Budaj made his way to the ice, he had his left leg trapped behind him. Immediately, it was apparent he was in a great deal of difficulty. He was completely unable to put any weight on his left leg.
Tampa Bay Lightning Head Athletic Trainer Tom Mulligan rushed out onto the ice to attend to Budaj, but it was clear he wasn't going to be able to continue on in this game. After finally making his way back to his skates, Budaj was helped off the ice by Mulligan and his teammate Mikhail Sergachev.
It is unknown at this point what sort of injury Peter Budaj may have sustained in this unfortunate situation or how much time, if any, he may need to miss from the ice. The one thing we know for sure is he looked to be in quite a bit of pain and we're sure everyone in the Bolts Nation felt a pain in their leg when Budaj went down.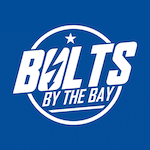 Want your voice heard? Join the Bolts By The Bay team!
Write for us!
Hopefully, it's nothing too serious. In the event Budaj is not well enough to dress on Sunday night when the Lightning travel north to take on the Columbus Blue Jackets, someone in Syracuse will be getting a phone call real soon.