Tampa Bay Lightning: Steven Stamkos' 2 Goals Help Defeat the Montreal Canadiens
The Tampa Bay Lightning defeats the Montreal Canadiens in the first game since the Jonathan Drouin-Mikhail Sergachev trade.
After a four-day holiday break, captain Steven Stamkos' two-goal night helps the Tampa Bay Lightning to defeat the Montréal Canadiens 3-1 in the first game of a back-to-back.
The game was the first matchup since the Lightning traded forward Jonathan Drouin for defenseman Mikhail Sergachev. The trade has proved to be in the Lightning's favor, as the rookie Sergachev has 23 points in 36 games, which is more than anyone on the Canadiens team. Drouin only has 18 points in 33 games.
Out of the lineup was Anton Stralman with a lower-body injury. The league leader in plus-minus with plus 24 is day-to-day. Forward Ryan Callahan is still out of the lineup, however, is skating with a no-contact jersey.
The first period starts slow for the Lightning. Canadiens goaltender Carey Price stops any offense the Lightning look to start. Price started for the Canadiens the night before in a 3-1 loss to the Florida Panthers.
Just under four minutes into the second period, Brendan Gallagher scores a power-play goal off a redirection to put the Canadiens up. The Lightning is unable to score after four power-plays already in the game. However, with 12 seconds left, Nikita Kucherov centers the puck for Steven Stamkos to beat Price and tie the game.
The energy from Stamkos' goal transfers over to the third period. 30 seconds in, a scramble in front of the net results in Brayden Point's 15th goal of the season and a lead for the Lightning.
Just four minutes later, Stamkos scores again on a 5 on 3 power play. The Lightning leads the league converting on 25.7% of power plays, with the league average at 19%. Stamkos had seven shots in a three-point game for the captain.
Sergachev was plus one and had two shots in the game. The defenseman had a lot of opportunities and looked eager to score a goal against his former team.
Andrei Vasilevskiy had a .969 save percentage, with 31 saves off of 32 shots. Vasilevskiy leads the league with 24 wins and is tied with Columbus Blue Jackets goalie Sergei Bobrovsky with four shutouts for the season.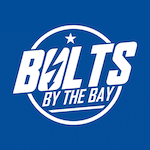 Want your voice heard? Join the Bolts By The Bay team!
Write for us!
The Lightning will conclude home games for 2017 against the Philadelphia Flyers tonight. The Flyers lost to the Florida Panthers last night 3-2. The Lightning is 16-2-1 at home this season, and look to extend their win streak to four games.