Ryan McDonagh won't be ready for showdown with former team
Tampa Bay Lightning defenseman Ryan McDonagh will, unfortunately, be sitting the sidelines as his new team takes on his former team, the New York Rangers.
The Tampa Bay Lightning has struggled defensively over the last couple weeks. Fortunately, moments before the NHL Trade Deadline, Lightning Vice President and General Manager Steve Yzerman gave the Bolts a huge defensive boost by acquiring defenseman Ryan McDonagh from the New York Rangers.
Unfortunately, McDonagh has been dealing with a lingering Upper-Body Injury since before the NHL All-Star break. Much to the chagrin of the Bolts Nation, this has delayed his debut in a Lightning jersey.
Originally, it was believed McDonagh may be ready in time to make his Lightning debut on Thursday night against his former team. Regrettably, it looks as if this may be nothing more than a dream for the Bolts Nation.
According to Joe Smith of the Tampa Bay Times, Lightning Head Coach Jon Cooper has said McDonagh won't be returning until the weekend at the absolute earliest. This means, if everything goes exactly according to plan, Ryan McDonagh could potentially make his return on Saturday afternoon as the Bolts take on another Atlantic Division rival, the Montreal Canadiens.
Adding McDonagh to the lineup could be a game-changer for the Bolts. McDonagh is a player whose size and build allows him to be a veritable force on the ice. Also, the 28-year-old defenseman is the kind of defenseman who can play both sides of the puck. This will make him the perfect player to champion the second line while Lightning defenseman Victor Hedman heads up the first line.
One of the most recent examples of the Lightning's defensive woes came on Tuesday night as the Lightning took on their in-state rivals, the Florida Panthers. Not only did the Lightning blow a two-goal lead more than once throughout the game, but they also heavily leaned on goaltender Andrei Vasilevskiy far too much.
Vasilevskiy was forced to face 49 shots on goal of which he was able to stop all but four. This kind of play is honestly unacceptable for a team who looks to have a deep run in the postseason. As the end of the season creeps closer, the Lightning are going to have to find ways to win in regulation and one huge step in the right direction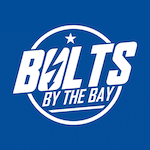 Want your voice heard? Join the Bolts By The Bay team!
Write for us!
Lightning fans may have to wait a little longer than expected to see Ryan McDonagh in a Lightning jersey, but as the old saying goes, "Good things come to those who wait." Hopefully, McDonagh will be ready to go by Saturday afternoon and the Bolts have the opportunity to be fully primed and ready by the time the postseason kicks off in April.