Tampa Bay Lightning re-signs Ryan McDonagh to 7-year deal
Tampa Bay Lightning defenseman Ryan McDonagh will be staying the Bolts Nation for quite some time as he has been re-signed to a seven-year contract extension.
The National Hockey League quickly transformed into the New York Stock Exchange this morning. As the doors to Free Agency have opened, the signings came bursting through the door like a tidal wave.
You can bet Tampa Bay Lightning Vice President and General Manager Steve Yzerman has been burning the midnight oil to get ready for this exact moment. There is a lot of work to be done, and with a market as hot as this one, teams will have to strike quickly if they want their best possible scenario to play out.
While the Lightning has been rather quiet on their current Free Agents, the Bolts did make a rather bold move to get ahead of the game next season. The Lightning announced in a Press Release on their official site this afternoon the team has re-signed defenseman Ryan McDonagh to a seven-year contract extension.
It's pretty clear; given the kind of contracts Yzerman has been orchestrating as of late, he is in this for the long haul and is doubling down on the players he truly feels can help the Lightning achieve their ultimate goal of bringing home another Stanley Cup to the Sunshine State.
According to the Press Release, McDonagh's new deal with have an Average Annual Value of $6.75 million per season and will begin at the start of the 2019-20 season. Under his previous contract, McDonagh was set to become an Unrestricted Free Agent at the conclusion of the 2018-19 season.
Ryan McDonagh came to the Tampa Bay Lightning last season along with forward J.T. Miller in a trade which saw former Lightning forward Vladislav Namestnikov make his way to the New York Rangers. While we miss Vladdy with all of our hearts, this trade has paid dividends for the Lightning.
When compared to other players on the team, McDonagh's numbers are a little skewed as he only played 14 regular season games with the Lightning last season. However, when you take a look at his numbers as a whole, a totally different picture is painted.
In the 63 games McDonagh played last season, he brought home a total of 163 blocked shots. This equals out to about 2.6 blocked shots per game. This places McDonagh in first place on the Bolts in both categories. McDonagh's closest competition is Dan Girardi, who came in with 155 blocked shots which equates to two blocked shots per game.
Ryan McDonagh may not be the perfect two-way defenseman like Victor Hedman, but he definitely provides some solid, hard-hitting play at the Lightning's blueline. Anyone who has been following the Bolts for any real length of time knows this is something the team has desperately needed for quite some time.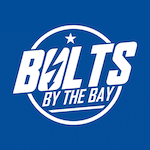 Want your voice heard? Join the Bolts By The Bay team!
Write for us!
Thanks to Steve Yzerman and his near uncanny ability make moves and sign new deals, the Lightning will have Ryan McDonagh for the foreseeable future to help hold things down defensively. Now, if the Bolts could just take care of one little defensive issue named…no, no…we're not doing this right now. This is, indeed, another story for another day.