Lightning return slow-footed after long four-day break
The Tampa Bay Lightning fell victim to their four-day "Spring Break," failing to keep up with the streaking Washington Capitals in their return to the rink.
The Bolts dropped their regular season finale to the Caps by a score of 6-3 and failed to sweep the season series against the team that knocked them out of last year's Eastern Conference Finals. It seemed like this would have been a perfect game for the Bolts to come back refreshed and motivated, but it looked almost like the exact opposite.
Tampa Bay was brutally outshot for the first two periods of the game by a count of 28-14, failing to even record a single shot on net more than six minutes into the game. Although the Bolts would log double Washington's shot total in the third period, the mountain was too tall to climb this time for Tampa Bay.
To be fair, the Lightning have been sitting pretty in first place in the Atlantic Division, Eastern Conference and entire league for a while now, and they secured their first-ever Presidents' Trophy nearly two weeks ago. Yet this team has been able to continue to push and grind out wins against playoff-caliber teams, extending their point cushion between them and the rest of the East.
Yanni Gourde made his return to the lineup after missing the team's previous two matchups for serving a two-game suspension, but he did not seem like the only one who had more than four days off. The team as a whole was outskated and outplayed by a Caps squad that came in riding a three-game winning streak and was looking to separate themselves from the New York Islanders atop the Metropolitan Division.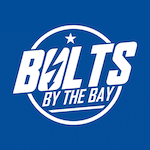 Want your voice heard? Join the Bolts By The Bay team!
Write for us!
This was the fourth break of at least four days for the Lightning this season and the loss to Washington marks the third time that they have dropped the first game back from those long breaks. However, the Bolts have been able to respond quickly to those losses by going on winning tears and point streaks. If that trend remains true, expect some top-notch performances on the ice by the Lightning for their remaining four games which will all come on the road.