Tampa Bay Lightning Injury Update: Victor Hedman could be ready to go against Sabres
According to Tampa Bay Lightning Head Coach Jon Cooper, there is a good chance Lightning defenseman Victor Hedman will be ready to go on Friday against the Buffalo Sabres.
The Tampa Bay Lightning has had a rocky start to the 2019-20 season thus far. Through the first 13 games of the season, the Lightning holds a 6-5-2 record, which places them barely around the .500 mark. Needless to say, this is not a good look for a team expected to go all the way this season.
Whether the Lightning's less-than-stellar start to the season can be partially blamed on the injuries the team has been forced to deal with is a very subjective topic at the moment. The good news here is, the Lightning may very well be getting a little help in this department before they take the ice in their NHL Global Series matchup against the Buffalo Sabres on Friday.
According to an interview with Lightning Head Coach Jon Cooper on November 5, the Lightning's bench boss seemed rather optimistic that Victor Hedman would be making his return to the lineup. While he didn't flat out say the Swedish defenseman was ready to rejoin the lineup, he left a trail of breadcrumbs that was fairly easy to follow.
"We have an off-day tomorrow, so we'll take advantage of that. We don't practice until late on Thursday, so it's kinda working out well for him. So, we'll see what happens," Coach Cooper said. "If you see him on the top of the Power Play on Thursday, if we work on our Power Play, then that might spell the answer for you."
Well, it seems as if things may be working out pretty well for Hedman.
Again, this is by no means a definitive confirmation that Hedman will be in the lineup on Friday; however, if you follow the path laid out before you, the picture is fairly clear. As always, things could change depending on Hedman's condition tomorrow morning, but given the team is currently in Hedman's native land, you can bet he'll be pretty determined to be out on the ice tomorrow afternoon.
Victor Hedman has been a valuable asset to the Bolts on both sides of the ice this season. In the 11 games he's played this season, Hedman has brought home two goals and seven assists for a total of nine points. This places Hedman in a three-way tie for fifth place on the team in points.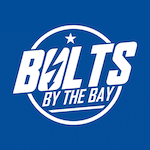 Want your voice heard? Join the Bolts By The Bay team!
Write for us!
The Lightning has a lot of work to do this season to get to where a team of this caliber should be at this point. It's definitely going to be a long and winding road with what we're sure will be more than a few obstacles in the way. At least there is hope the Lightning will have one of their strongest defensive assets in Victor Hedman on the ice to help them on their journey.