Tampa Bay Lightning recall Cory Conacher from Syracuse Crunch
The Tampa Bay Lightning has recalled forward Cory Conacher from the Syracuse Crunch ahead of the start of their two-game road trip in St. Louis.
The Tampa Bay Lightning has been on a heck of a ride since making its way to Sweden for the NHL Global Series. After two quick home games, the Lightning is back on the road once again as they make their way to the Enterprise Center to kick off a two-game road trip tonight against the St. Louis Blues.
It looks as if the Lightning will be heading into tonight's contest with a little bit of back up. And, no…we're not talking about Bolt, no matter how much we'd love to see him suit up. Earlier today, the Tampa Bay Lightning recalled forward Cory Conacher from the Syracuse Crunch.
As of this moment, there has been no official word from the team regarding any specific player being out of the lineup tonight. The Athletic's Joe Smith noted earlier that Lightning captain Steven Stamkos was notably missing from the team's morning skate.
The good news here is there is a good chance the move is more of a precaution than anything. According to Smith, Lightning Head Coach Jon Cooper said he thinks Stamkos will play tonight. This could very well have been nothing more than a maintenance day for Stammer.
In the event Conacher does take the ice with the team tonight, it will mark his season debut with the team. Cory Conacher has played in 16 games thus far with the Syracuse Crunch this season, bringing home five goals and seven assists for a total of 12 points.
Last season, Conacher played in one lone game with the Bolts and did not make his way onto the scoreboard. The same cannot be said about his season with the Crunch. Last season, the 29-year-old Canadian forward played 70 games with the Crunch, scoring 22 goals and 42 assists for a total of 64 points.
Conacher had a stellar season last year with the Crunch. His 64 points were second only to his 2011-12 season with the then-Lightning affiliate, the Norfolk Admirals. As most Lightning fans will remember, this is the season the Norfolk Admirals captured the Calder Cup, the AHL equivalent of the Stanley Cup.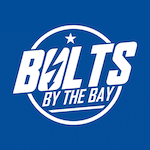 Want your voice heard? Join the Bolts By The Bay team!
Write for us!
The Lightning definitely has a lot of work ahead of them if they want to get back to business as usual. The team's slow start definitely had many Lightning fans frustrated and left scratching their heads. Thankfully, the trip to Sweden seemed to do wonders for the team. Here's hoping the team keeps the momentum rolling in their direction and kicks off their road trip with a much-needed two points over the Blues.