Tampa Bay Lightning F Alex Killorn a game-time decision
Tampa Bay Lightning forward Alex Killorn will be a game-time decision tonight as the Lightning takes on the Minnesota Wild at Amalie Arena in Tampa.
The Tampa Bay Lightning has been on a wicked rollercoaster ride this season when it comes to injuries. Regrettably, as the Lightning prepares to take on the Minnesota Wild on 90's Night tonight at the Amalie Arena, the Bolts will be dealing with this very issue.
According to Lightning Head Coach Jon Cooper, Bolts forward Alex Killorn will be a game-time decision. Killorn was forced to miss Tuesday night's 3-2 overtime victory against the Nashville Predators due to the same lower-body injury plaguing him today.
The 30-year-old Canadian forward has had a decent season with the Lightning thus far. In the 23 games Killer has played this season, he has brought home six goals and 11 assists for a total of 17 points along with a plus-3 rating. Right now, Killorn is tied with Anthony Cirelli for fifth place on the team in points.
Alex Killorn's stats have been down a little over the last couple of seasons, but if Killorn isn't forced to miss any serious time this season and continues on his current path, he could see a rise in those numbers and potentially set a new career-high for himself.
The Lightning has certainly dealt with a number of consistency issues this season and having a number of players up their game and push for new levels would provide the boost the team needs to get back on the right track and actually be a contender for the postseason.
Tonight's encounter will be the first of two meetings the Lightning and Wild will have this season. The Lightning hasn't always a lot of success against the Minnesota Wild. The Wild swept the season series last season, handing the Lightning a 5-4 overtime loss on October 20, 2018, and a decisive 3-0 loss on March 7.
Needless to say, it's going to be all hands on deck at the Amalie Arena in the heart of Downtown Tampa tonight. The Lightning was able to squeeze out an overtime victory on Tuesday night over the Predators. It would be nice to see the Bolts start another win-streak with a victory over the Wild.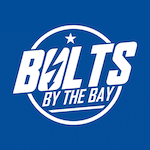 Want your voice heard? Join the Bolts By The Bay team!
Write for us!
The puck is set to drop at 7:00 p.m. It'll be interesting to see whether or not Alex Killorn takes the ice with the team for the pregame skate or whether or not someone else will be taking his place. Only time will tell, at this point. Here's hoping for a much-needed Tampa Bay Lightning victory.