Lightning vs Stars – Stanley Cup Finals Game Two Preview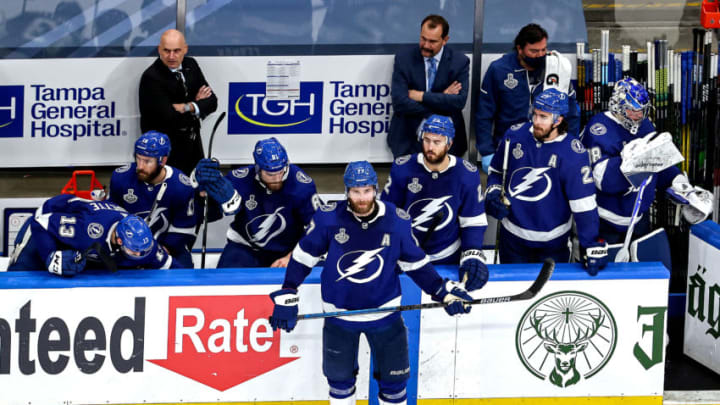 EDMONTON, ALBERTA - SEPTEMBER 19: Victor Hedman #77 of the Tampa Bay Lightning reacts against the Dallas Stars during the third period in Game One of the 2020 NHL Stanley Cup Final at Rogers Place on September 19, 2020 in Edmonton, Alberta, Canada. (Photo by Bruce Bennett/Getty Images) /
It's not how you start, it's how you finish. That's the old adage, right? For the second time in the Stanley Cup Playoffs the Lightning start their series off trailing one game to zero. For six consecutive games, their opponent has opened the scoring. Yet, this team and their new found mentality have not allowed such hurdles to phase them.
The Lightning looked, well, not great in game one. Losing 4-1 in the first game of the Finals is not exactly what you would call "ideal," but the issues we saw Saturday night are fixable problems that I discussed here. All that said, the Lightning have to start fast tonight in game two.
Tampa Bay is 9-1 this postseason when they score first and are 7-0 when leading after the first period. Those are huge numbers. On top of that, they are 5-0 when coming off a loss since entering the bubble. These are the kinds of things champions are built on. I keep going back to my favorite word – say it with me – resiliency.
To add a new wrinkle into the resilient make up of this Lightning team, we are officially on Steven Stamkos watch. No, I don't believe he will play in game two but I am officially a believer that we will see him on the ice in this series. What a boost that would be.
And no, before you say anything, it will not affect the chemistry of this team. Stamkos returning would not only provide an emotional life to the locker room but it will improve the team in two areas where the Lightning have been struggling throughout the postseason – power play and faceoffs.
The Bolts were 0-for-3 yet again on the power play in game one bringing their running total to 0-for their last 14. That has to get going if the Lightning are going to bounce back in this series. Special teams will be a huge factor in whoever wins the Stanley Cup and the Lightning have been infuriatingly incompetent without the captain chilling in his office.
The other thing to bear in mind moving forward is the outstanding postseason Andrei Vasilevskiy has had. While game one wasn't a great game, Vasy can look to the defensive lapses by his teammates for at least two – and arguably all three – of Dallas' goals. Having a back-to-back in this series, while annoying, may actually play into Tampa Bay's favor with a younger and stronger Vasilevskiy in net rather than Anton Khudobin – who is on an absolute tear right now.
The Lightning defense has to play a tough, strict, disciplined game in their defensive end tonight against the Stars to alleviate some pressure off Vasilevskiy. The Stars' defensemen are every bit as dangerous as Tampa Bay's in the offensive zone so there can't be any mental mistakes like we saw out of Zach Bogosian, Luke Schenn, and Mikhail Sergachev in game one.
The Lightning are too talented to play the way they did in game one for a second time in this series. They're going to come out firing and ready to go rather than looking like they're skating in quicksand. And just like every game following a loss thus far, I expect the Bolts to come out on top.
Stanley Cup Finals Game Two Info
Where: Rogers Place – Edmonton, Alberta
When: Monday September 21
Time: 8:00 p.m. ET
TV Broadcast: NBCSN, CBC, TVAS, SN
Radio Broadcast: 970 WFLA
LiveStream: Watch Here