Lightning 5 on 4: The Honeymoon Is Over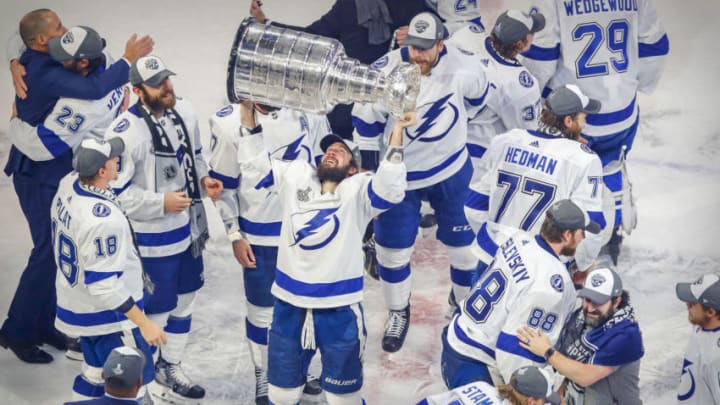 Sep 28, 2020; Edmonton, Alberta, CAN; Tampa Bay Lightning right wing Nikita Kucherov (86) hoists the Stanley Cup after defeating the Dallas Stars in game six of the 2020 Stanley Cup Final at Rogers Place. Mandatory Credit: Perry Nelson-USA TODAY Sports /
Welcome to a new column here at Bolts By The Bay. For those of you familiar with my work at Bucs Nation, you know about my weekly recap column "Pick Six" (if not, you can check out the most recent one here.) So, although it isn't a weekly series year long, we will do these as a weekly feature recapping the Lightning during the season.
With that said, here's the premise. I will take four topics and each topic will have a list of some sort with five bullet points. So, five points on four topics or 5-on-4. With all that out of the way, let's dive in!
Lightning Have Some Tough Decisions Ahead
The celebration of the Stanley Cup is short lived with the abbreviated off-season. The draft is next week and free agency is right behind. Unfortunately, some fan favorites will never suit up for the Lightning again as GM Juilen BriseBois has to unload quite a bit of salary to free up cap space. Here are five players in danger of being jettisoned.
1.) Alex Killorn – This is the obvious one that many people point to and with good reason. He carries a $4.45M salary each of the next three years and his no trade clause becomes a modified no trade when the new league year begins. That means the Lightning have a list of teams he is willing to go play for that they can get deals done with. I hate to say it, but I think Killer is gone.
2.) Kevin Shattenkirk – This isn't a trade situation but it's highly unlikely we will see Shattenkirk back with the Lightning. He was under an affordable contract due to the buyout from the Rangers and the demand he will garner on the open market is just too high for the Lightning to match. He was a key member of the Lightning's Cup run but he will get a big deal elsewhere.
3.) Yanni Gourde – This one is a little out there and more difficult to pull off, but Gourde could fetch quite a package of picks and/or prospects. Gourde is set to make $5.16M a year through 2024-25 and that's a bargain for anyone. However, with cap issues the Bolts face and in desperate need to build up their farm system, I could see them approaching Gourde to see if he's willing to waive his no trade clause in order to facilitate a deal.
4.) Ryan McDonagh – Another player that would have to waive his no trade clause and one of only three defensemen under contract for the 2020-21 season, but Mac is making $6.75M a year through 2025-26. He's another guy that could get Tampa Bay a lot of picks and/or prospects, just not quite as many as Gourde. At 31, he would be 37 when this current deal expires which may turn some teams off to the idea of a trade.
5.) Ondrej Palat – This is another one a little out there, but it would make sense once you think about it. With the team unloading salary and getting back picks and prospects, it's reasonable to think that Palat's trade value will never be higher than it is coming off the playoff performance he just had. With two years left on his deal at $5.3M per year, the Lightning could strike while the iron is hot before he hits free agency in 2022. Another key member of this team, but these are called tough decisions for a reason. Palat may very well be in play for a move if he's willing to waive his no trade clause.
It's All About The Future
Along with those tough decisions is looking ahead to the future where the money they save now can be allocated to signing guys that will help them win another Cup. So, who do the Lightning need to focus on?
1.) Mikhail Sergachev – There is absolutely zero question Sergy needs to be their number one priority. At 22, he's already a bonafide star defensemen. Sergy is also the player most likely to receive an offer sheet that the Lightning can't match so BriseBois needs to ensure they have money ready to get a deal done should an offer sheet come his way.
2.) Anthony Cirelli – The next likely option to receive an offer sheet though not likely to be a lucrative as one offered to Sergy. Cirelli is a budding star and a top six guy for sure. For a lot of teams, he could be their top line center within the next two years if not now. He's in danger of being plucked away by a team with a lot of cap space if they need some scoring help – looking at places like Detroit, Colorado, New York Rangers, and – the team Tampa Bay just beat – Dallas.
3.) Erik Cernak – Another defensemen that played a big role, Cernak is a restricted free agent. Any offer sheet that he may get is likely one that the Lightning could match. At 23 he has plenty of untapped potential and is growing as a player. Like Sergy and Cirelli, the Lightning could try to talk him into a short bridge deal until the cap is rising again and they can get him a bigger pay day.
4.) Zach Bogosian – This is a long shot, but the Lightning should try to lure Bogosian back to town on a short term deal. He may get offered big money after his postseason performance but he can certainly contribute big minutes and big plays for this team if he were to stick around. The Lightning were able to get him on a $1.3M prorated contract when he was sent packing from Buffalo and that certainly won't get the job done here. Bogo will likely get in the $4-5M per year range like he did on his last deal with Buffalo.
5.) Jan Rutta – Rutta is set to hit the open market as an unrestricted free agent and should still stay within a price range the Lightning can afford. He only cost $1.3M in 2019-20 and should stay in that range as a free agent unless someone drastically over pays. That's not to say Rutta isn't a good player, he can certainly start for this team on a daily basis. He was unfortunately a victim of circumstance where he had a tough time breaking back through into the lineup once they got into the bubble.
Important Numbers To Consider
5.33 – Lightning's current cap space
8 – Number of picks the Lightning have in the draft (2nd, 3rd (2), 4th (2), 6th (2), and 7th)
5 – Restricted Free Agents the Lightning have as well as the Unrestricted Free Agents the Lightning have
40 – First round picks – out of 57 – have been players born in Canada
3 – Teams ever won the Stanley Cup a year after being swept in the first round. The Lightning were the first to do it since 1967.
Final Shift
Lord Stanley Has Come Home