Revisiting the Tampa Bay Lightning's 2022 Draft Picks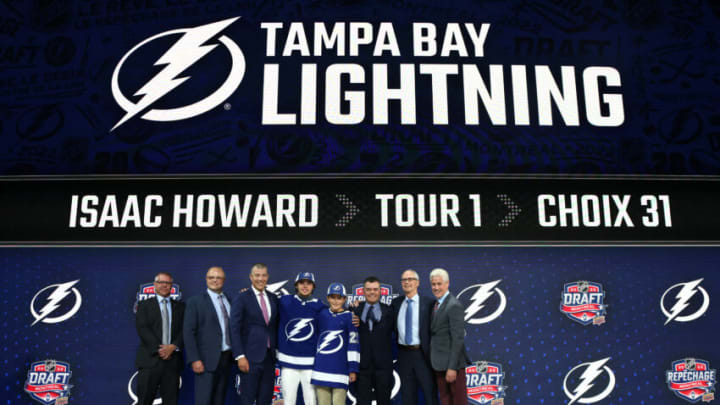 MONTREAL, QUEBEC - JULY 07: Isaac Howard is drafted by the Tampa Bay Lightning during Round One of the 2022 Upper Deck NHL Draft at Bell Centre on July 07, 2022 in Montreal, Quebec, Canada. (Photo by Bruce Bennett/Getty Images) /
In their first seasons as Tampa Bay Lightning prospects, the six players making up the team's 2022 draft class had eventful years. Some took steps forward in their development while others had years that they will not mind moving on from. And for those that followed along with us throughout the season, you will remember that two had the opportunity to play on two of the biggest stages prospects can play on.
This one year will not make or break any of their future potential with the organization, but this is still an important time for ramping up development.
With the 2023 NHL Draft around the corner, and a fresh group of soon-to-be players joining the Lightning's prospect ranks, let's revisit the seasons the 2022 draftees had along one of their highlights.
Isaac Howard, LW
1st round — 31st overall
Team: Minnesota-Duluth (NCAA)
Season stats: 35 GP | 6 goals | 11 assists | 17 points
Howard likely hoped for a better start to his college career. He spent the early part of the season on UMD's second line, playing both wings, but saw his name fall down the lineup as he struggled to find a scoring touch. As the season wore on, he did begin to settle in. After only scoring one goal and six points in the first half of the season, he closed out the second half with five goals and 11 points.
Though, by season's end it, was clear that Howard was not fitting in with UMD's system. Shortly after his season ended it was announced that he was transferring to Michigan State. At MSU, Howard will link up with his former USNTDP coach, Adam Nightingale.
Lucas Edmonds, RW
3rd round — 86th overall
Team: Syracuse Crunch (AHL)
2022-23 stats: 49 GP | 15 goals | 12 assists | 27 points
The Lightning usually take their chances on at least one overage player each draft, and with Edmonds, the scouting department look to have hit their mark.
Drafted in his third and final year of draft eligibility, Edmonds was eligible to immediately join the Crunch. Coming off a 113-point Ontario Hockey League season, hopes were high that his OHL production would translate to the AHL. And while he did start off slow — with eight points in his first 24 games — he finished strongly with 19 points in his final 25 games.
Heading into next season, Edmonds looks primed for a breakout year. Do not be surprised if he is near, or at the top of the scoring charts for the Crunch.
Nick Malik, G
5th round — 160 overall
Team: KooKoo (Liiga)
2022-23 stats: 24 GP (4-13-6) | 2.74 GAA | 0.891 SV%
Malik, son of former Lightning defenseman Marek Malik (2008-09), joins Edmonds as having been a third-year eligible last draft. This Liiga season, though, was a step back compared to his draft year when he had a 1.97 goals against average and a .922 save percentage.
With Hugo Alnefelt and Matt Tompkins set to share the crease in Syracuse this coming season, Malik is currently set to continue his development in Europe. As long as he continues to see action in the Finnish pro league, he is in a good spot to continue his development. Although, the Lightning will have to decide on signing him before his signing rights expire next summer.
Connor Kurth, RW
6th round — 192 overall
Team: Minnesota (NCAA)
2022-23 stats: 38 GP | 7 goals | 4 assists | 11 points
Kurth's freshman season was largely reserved to a depth role on a talented Minnesota team that included eight NHL drafted forwards. But after playing well in his limited playing time, and contributing the occasional goal, his usage increased down the stretch.
At the team level, Kurth and Minnesota saw the most success of any of the Lightning's 2022 draftees as they played in the NCAA championship game at Amalie Arena back in April, but lost in the opening seconds of the first overtime period.
Going forward, as the players ahead of Kurth begin to graduate and sign NHL contracts, Kurth looks primed to step into a larger role at Minnesota.
Dyllan Gill, RD
7th round — 223 overall
Team: Rouyn-Noranda Huskies (QMJHL)
2022-23 stats: 68 GP | 8 goals | 49 assists | 57 points
Gill saw the largest year-over-year scoring improvement of any of the Lightning's 2022 draftees as his point total increased from 21 to 57. Part of that increase came from a more prominent power play role that saw his power play scoring total increase from six to 29 points.
Still unsigned by the Lightning, Gill has another QMJHL season ahead of him before the Lightning have to make a call on offering him a contract. Further improvement in scoring will help his case, but regardless, to see a seventh-round pick's production increase this much is a good sign for now.
Klavs Veinbergs, C
7th round — 224 overall
Team: Lincoln Stars (USHL)
2022-23 stats: 50 GP | 12 goals | 16 assists | 28 points
Veinbergs made his North American hockey debut this season in the USHL with the Lincoln Stars after previously playing in the Russian junior league. Additionally, he represented Latvia at World Juniors, where he recorded one assist.
Statistically Veinbergs' year does not jump off the page, but that is not a concern since late-round draft picks are typically long-term development projects. He will continue his development playing NCAA hockey with Minnesota State next season. And by taking the college hockey route, the Lightning will not have to make a decision on signing him until his signing rights expire August 2027.