The Tampa Bay Lightning are good, but have you heard of Connor Bedard?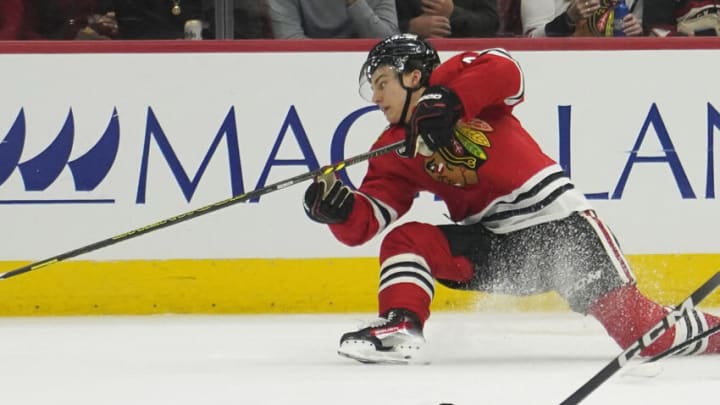 Oct 5, 2023; Chicago, Illinois, USA; Chicago Blackhawks center Connor Bedard (98) goes for the puck against the Minnesota Wild during the second period at United Center. Mandatory Credit: David Banks-USA TODAY Sports /
The Tampa Bay Lightning will take the ice tonight with the third most points in the Eastern Conference, with a record of 6-3-4.  Nikita Kucherov leads the NHL in points, and Jonas Johansson has been a capable backup and a great story while Andrei Vasilevskiy has been hurt.
Sure, it's great that the Lightning are on track to make another trip to the playoffs and are once again a contender for the Stanley Cup, but are you aware that Connor Bedard is in town and can lace his skates without help?
Tampa Bay Lightning: Seen Connor?
Bedard might be the greatest player to ever step on the ice in hockey history. Not Wayne Gretzky, not Gordie Howe, not even Jaromír Jágr, it's Connor.
Who else could possibly have five goals through 11 games?
Sure, there are 76 other guys with at least five goals, but none of them are named Connor. And it just means you are overlooking the fact that he also has two assists on the season.
What's that you say? 417 guys also have at least two assists on the season? And he has the benefit of playing with former Hart Trophy winner Taylor Hall?
Typical clueless hockey fan in Tampa.
Connor Bedard is so good that EA Sports is considering changing the cover of NHL 24 midseason to put Bedard on the cover. And unlike your favorite hockey player, Bedard can turn on his PS5 all by himself.
From what we understand, if the Chicago Blackhawks score a goal tonight, the scorekeepers have been instructed to just give the goal to Bedard just to be safe. Chicago is the 3rd worst team and five versus five scoring, so who else but Connor would be the one to put the puck in the net?
Chicago does have former Tampa Bay Lightning players Tyler Johnson, Corey Perry, and Taylor Raddysh, but that isn't who Gary Bettman wants you to watch tonight.
You are going to watch Connor Bedard tonight, and you are going to like it. Even if the Lightning do win, which Vegas thinks is likely with -250 odds, the highlights will show every breathtaking shift that Bedard takes.
Honestly, would you rather see a Kucherov hat trick tonight or Bedard wiping his visor with no help?
Because if you say Kucherov, it just means you don't know hockey.