Tampa Bay Lightning D Victor Hedman likely out against Coyotes
Tampa Bay Lightning defenseman Victor Hedman is likely out of the lineup tonight against the Arizona Coyotes after a late hit from Vegas Golden Knights forward Ryan Reaves.
The Tampa Bay Lightning has gotten off to a tremendous start this season, bringing home victories in seven of the nine games they've played so far this season. Unfortunately, where there is good news, there is bound to be a little bit of bad news somewhere in the vicinity.
As many Lightning fans know by now, defenseman Victor Hedman was forced to leave last night's encounter with the Vegas Golden Knights after colliding with the boards thanks to a late hit from Golden Knights forward Ryan Reaves. Hedman was unable to return to the game.
Regrettably, it looks like Hedman's time away from the ice may extend at least one more game. According to Lightning Head Coach Jon Cooper, it is unlikely Hedman will take the ice alongside his teammates tonight as they head to the Gila River Arena to take on the Arizona Coyotes.
This is definitely a blow to the Lightning blueline. Hedman has been the rock-solid core of the Lightning defense this season and not having a guy like him on the ice is going to definitely be noticeable.
At the same time, the world has a way of balancing things out. Well…at least in one form or another. According to Lightning Hockey Reporter Caley Chelios, in the event Hedman doesn't play tonight, there is a chance defenseman Slater Koekkoek could get his first game of the season.
On the bright side, Cooper said the nasty "C" word (concussion) has not been brought into the conversation regarding Hedman. Judging by the sound of things, it seems as if Hedman's injury was serious enough to force him to miss the remainder of the Vegas game and potentially tonight's encounter with the Coyotes, but does not seem long-term.
As game time approaches, the plan of action will become much clearer. It's never a good day when one of your top defensemen is sidelined, but the Lightning has tremendous depth and plenty of players ready and willing to fill the void when called upon.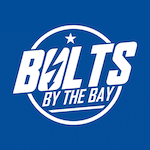 Want your voice heard? Join the Bolts By The Bay team!
Write for us!
There are plenty of storylines heading into tonight's contest against the Arizona Coyotes. It will be interesting to see how things play out once the puck drops tonight in Glendale. Will the Lightning adapt to the lineup changes and continue their three-game win streak? Only time will tell. The puck is scheduled to drop at 9:00 p.m. EST.