Breakdown: Tampa Bay Lightning Spend Big to Acquire Tanner Jeannot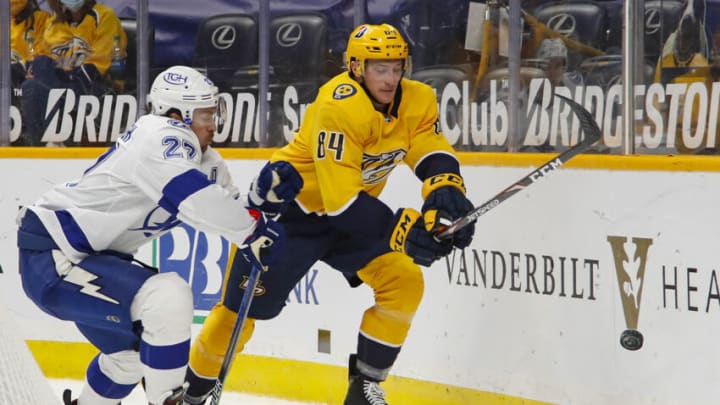 NASHVILLE, TENNESSEE - APRIL 13: Tanner Jeannot #84 of the Nashville Predators skates against Ryan McDonagh #27 of the Tampa Bay Lightning during the third period at Bridgestone Arena on April 13, 2021 in Nashville, Tennessee. (Photo by Frederick Breedon/Getty Images) /
The Tampa Bay Lightning have acquired forward Tanner Jeannot from the Nashville Predators in exchange for everything and the kitchen sink Sunday night.
There is a lot to unpack here but let's first focus on the team's new addition.
Jeannot, 25, is a 6-foot-2, 207-pound winger, third year pro in the final year of a two-year contract paying $800,000 a year, that will see him become an RFA with arbitration rights this summer.
Through 56 games this season, Jeannot has 5 goals and 9 assists. Which is well below his breakout sophomore season, last year, where he scored 24 goals and 17 assists in 81 games.
Part of the goal-scoring decline can be attributed to his 19.4% shooting percentage last season being an unrealistic expectation to maintain, but also because the 5.7% he's shooting this year is really bad. And while his numbers are a way off, so are everyone's on Nashville, so don't hold it against him.
Scoring, though, is unlikely what GM Julien BriseBois saw in Jeannot.
Jeannot is a menace on the forecheck. With 213 hits this season, he is 69 hits clear of the next closest forward on Nashville, and third among all forwards in the league. Additionally, with 51 blocked shots, he leads the Predators and is 19th league wide among forwards.
And just for good measure, Jeannot adds to Jon Cooper's arsenal of capable penalty killers. Averaging 2:27 of shorthanded time per game for the Predators, Jeannot will ensure there will be no worries on the penalty kill. The addition of Hagel and Paul last year eliminated any dire need, and now there will be a luxury of PK riches to work with.
A hefty price paid, but not as bad as you think
The return Nashville got for Jeannot seems to have left fans and team executives equally stunned.
A first, second, third, fourth, and fifth round pick in addition to Cal Foote is quite the price to pay for a player in the middle of the worst scoring season of their short career, but let's break this down.
We questioned Cal Foote's future with the team once Nick Perbix was re-signed. Three seasons and 117 games into his Lightning career,  Foote has struggled to stay in the lineup and prove that he is a nightly player. If moving Foote did not happen now, then he would likely have left as a free agent in the offseason.
Perhaps the biggest shock is what was paid in terms of draft capital. Five draft picks: a first, second, third, fourth, and fifth is a lot. To put that in perspective, that is on par with what the Maple Leafs paid to acquire Ryan O'Reilly and Noel Acciari from the St. Louis Blues.
The fourth and fifth round selections are largely irrelevant as they do not hold much trade value on their own, and any drafted player would only come into their own after the Lightning's contention window is possibly closed, or close to it.
I view the 2023 third-round pick as a use or lose type of deal. Yes, the odds are greater of selecting a future NHLer, but the timeframe of anyone drafted in the third round this summer becoming a contributor for the team still runs past the point of when they would be needed for the current iteration of the team.
The second and, especially, the first are the meat of what we sent to Nashville. Alone, they would come close to potentially being useful if we saw them out by drafting and developing a player, but they are both likely late round picks. Note that the 2025 1st is Top 10 protected, so do not sweat any bad scenarios.
The biggest loss will be the future ability of BriseBois to add to the roster over the next two seasons. He is without a first until 2026 and a second until 2025.
Plainly put, they are spending quicker than the rate that they are replenishing. And that's fine for now, but eventually this team will be in a position where their hands are truly tied at the deadline.
Unlike the costly acquisition of Brandon Hagel last year, that came with him signed for an additional two seasons, Jeannot is due for a new contract. As an RFA, Tampa Bay will still have team control over him, but will hope to have him signed at a reasonable number for multiple seasons going forward to fully maximize the value gained from the trade.
If fans are looking for a consolation thought to the price paid, then Isaac Howard still being a member of the Lightning organization is there for you — for now.
How Jeannot fits into the roster
Jeannot has the prototypical bottom-six build and style of play we covet and will presumably start out on the third line with Ross Colton and Nick Paul.
Best case scenario will see him scoring closer towards the half-point-per-game player he was last season, and at worst he is a player that none of our opponents will want to play against — think Barclay Goodrow.
However, the bigger question is shaping up to be who will exit the lineup to make way for Jeannot.
Bellemare, Maroon, Namestnikov, and Perry are four players that have to compete over three spots now. None need to be moved as the team is salary cap compliant, but this will be a change after the team had rostered only 12 forwards for most of the season.
Bellemare, with his faceoff and penalty kill abilities, should have an advantage to staying in over the other three. And for the rest, we could see a rotating cast going with the hot hand or matching up to different opponents.
BriseBois still has room to maneuver
The actual trade deadline is not until 3 p.m. Friday and BriseBois still has roughly $770,000 of cap space to play with. A league minimum contract is only $750,000, and even though the assets for significant salary retention are out the door, there is still the possibility of paying for a little. But what else is needed?
To me, the team still needs to solidify its defensive depth. Fleury is not on par with our past playoff seventh defensemen, and nobody stashed in Syracuse — including Phil Myers — is either.
Luke Schenn, at a reasonable price, would be ideal, but someone like Trevor van Riemsdyk on Washington would also make sense, if available.
The next best draft asset remaining is the 2024 third round pick, so should any further trades materialize, do not expect a blockbuster.
Contract, salary, trade data: CapFriendly